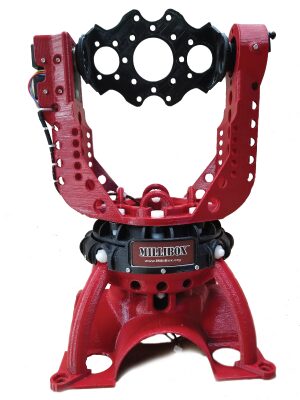 mmWave 3D antenna positioner

GIM01 is the standard 3D antenna positioner for mmWave phase array antenna at the center of all MilliBox solutions. It comes by default with every Millibox Anechoic chambers. The Laser guide on the Device-Under-Test (DUT) platform facilitates the alignment with the provided horn post. You can connect the DUT power, control or RF wiring by feeding them though the rotation bearings, therefore preventing cable tangling.
GIM01 comes with a USB interface and a power supply and this is all you need to control the motion of the mmWave 3D antenna positioner. The software controller can be used on Windows, Linux and MacOS and comes with all the necessary functions to start plotting radiation pattern quickly.
GIM01 mmWave 3D antenna positioner is powered by two smart actuators. This means that, with 12 bits absolute position encoders integrated, the step resolution is below 0.1 degree and can rotate 360 degree in both azimuth and elevation plane simultaneously. Therefore, this provide a full sphere of maximum 6,480,000 acquisitions points for a single plot. In addition, since the motion is based on absolute position with a feedback loop, there is no incremental drift or position error accumulation along the plot.
The easy steps to get started with GIM01 mmWave 3D positioner.
GIM01: Flexible software controller

Because the software controller is provided in well documented source code there is no limits to the type and number of instruments you can attach and control, for instance any Vector Network Analyzer and Spectrum Analyzer with VISA automation support. Additionally, you can also integrate other instruments like power supply, thermometer and even control your DUT in real time while you plot.
The ability to control the mmWave 3D positioner and your mmWave phase array DUT within the same framework is key. For example, this can help you record phase vectors as you plot your radiation pattern. In the case of mmWave radar it will let you record key metrics like time of flight, from your DUT as you proceed along the 3D plot.
Not only the plot is displayed in real time as the acquisition progresses, but most importantly, all the data are captured in time stamped .CSV file containing position information and the corresponding metrics your recorded. In the end, the data set can be processed with any software you want for visualization or analysis.
In conclusion, the flexibility and limitless expansion of the software framework provided with GIM01 mmWave 3D antenna positioner is unparalleled in the market.
Applications: mmWave phase array antenna 3D measurement

24GHz radar
5G (NR) mmWave
60GHz, 802.11ad, 802.11ay
77GHz automotive radar
81GHz radar
Other proprietary mmWave design from 18GHz to 95GHz
Usage: Radiation pattern and OTA

Beamforming 3D capture
Over-the-air mmWave measurements
Antenna array performance test
Beam coverage assessment
In-system antenna placement
Production test
Specifications:
Base 200mm x 200mm, DUT height 320mm
Range -180 to +180 degree in H and V planes
Resolution < 0.1 degree in both planes
Laser-guided calibration at 0.1 degree accuracy
Maximum DUT size 40mm x 200mm x 110mm (1.5″ x 7.9″ x 4.3″) THW
Maximum DUT weight 500g (1lb) balanced
Made in USA
USB controller included
Software controller in Python provided
Matching height horn post and horn clamp provided
Customization available on request